Despite Google being rumored to launch a Pro-level set of earbuds, we had to wait quite a while for the Pixel Buds Pro to actually be unveiled. These reintroduced the touch gesture controls that we fell in love with following the release of the Pixel Buds (2020). 
Considering these controls were removed entirely from the Pixel Buds A-Series, there was a collective sigh of relief when the Pixel Buds Pro brought gestures back. Not only have gestures returned, but did you know that you can customize touch controls on Pixel Buds Pro? 
Customize touch controls on Pixel Buds Pro
If you've just picked up the Pixel Buds Pro for yourself, you might be okay with the default gesture controls. You might even be okay with making adjustments manually with whatever phone you have paired with some of the best wireless earbuds. But if you want to really get to know your Pixel Buds Pro, you'll want to know what gestures can even be used. 
Swipe to scroll horizontally
| Gestures | Actions |
| --- | --- |
| Tap | Play / pause media, Answer call |
| Double Tap | Next track, End / Reject call, Stops Google Assistant |
| Triple Tap | Previous track |
| Swipe Forward | Raise volume |
| Swipe Backward | Lower volume |
| Touch & Hold | Toggle ANC, Use Google Assistant |
The best part about Google making the outer-pad on the Pixel Buds Pro touch-sensitive is that you can customize some of the gestures to perform different actions. 
1. Open the Settings app.
2. Tap Connected devices.
3. Next to your Pixel Buds Pro, tap the Gear icon.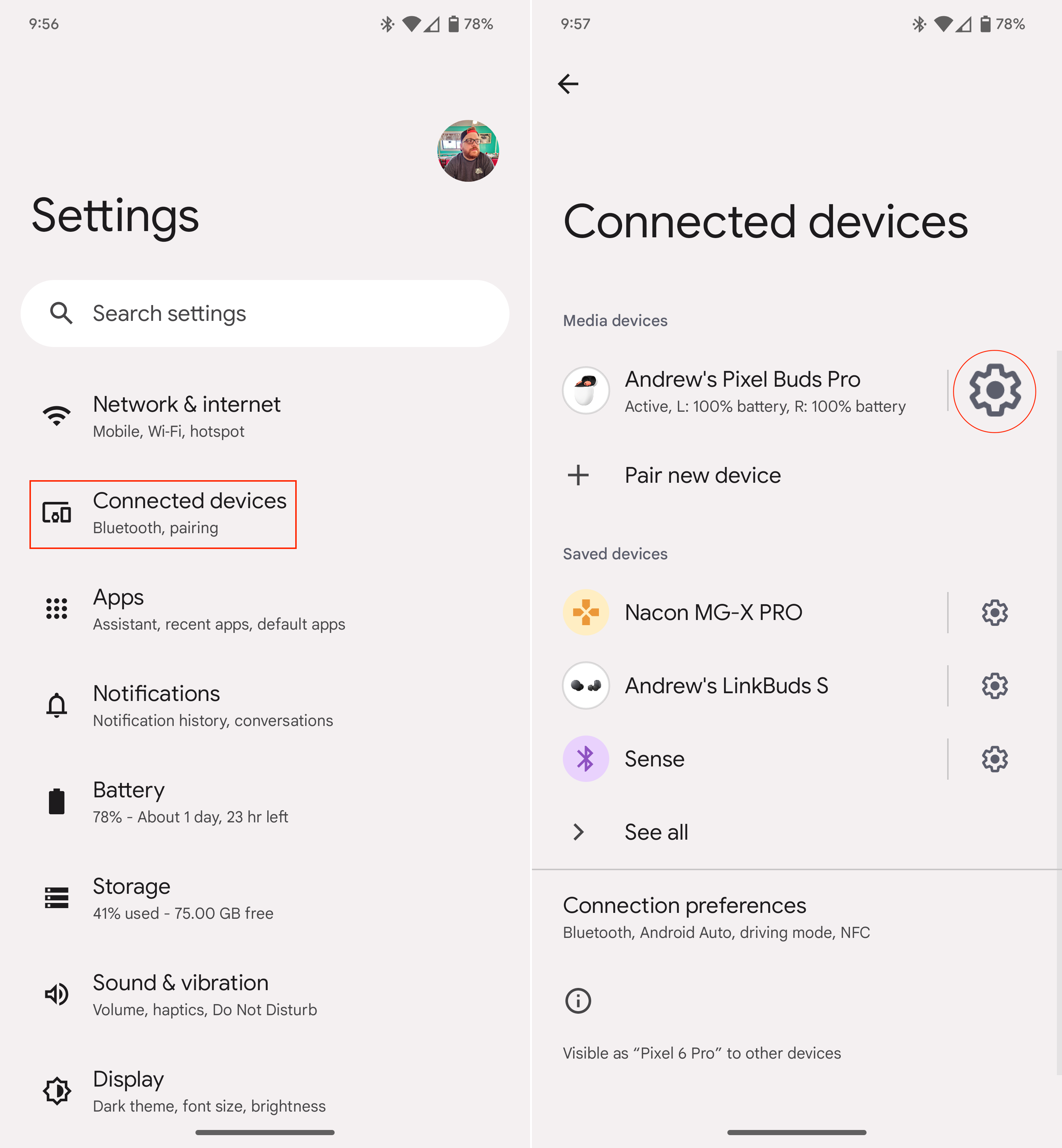 4. Tap Touch controls.
5. Tap Customize Touch & hold.
6. Under Right earbud, tap Toggle Active Noise Control or Talk to Assistant.
7. Repeat for the Left earbud.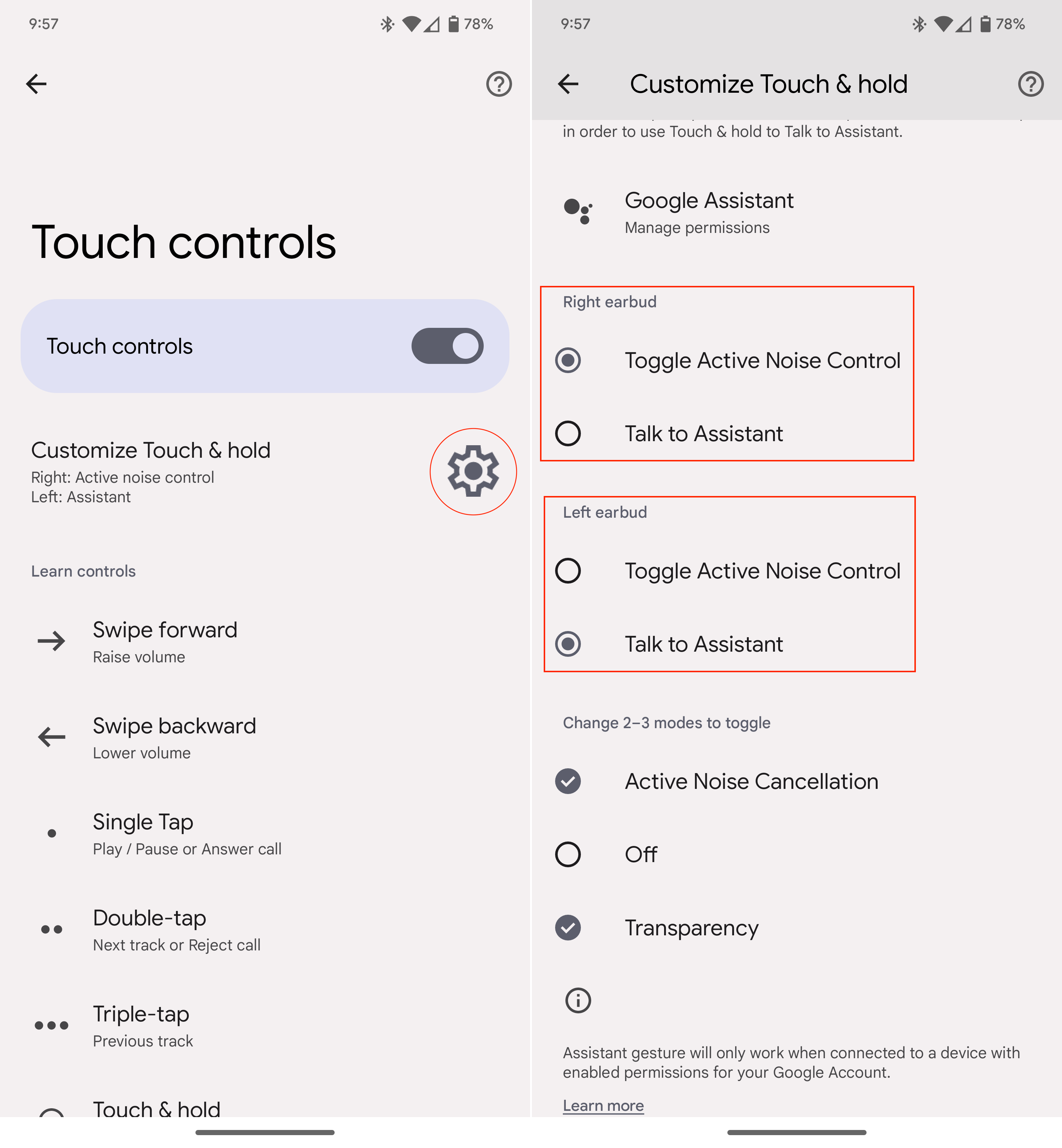 There's a third section at the bottom, named Change 2-3 modes to toggle. This allows you to decide what audio modes you want to switch between when using the Toggle Active Noise Control gesture. These include ANC, Off, or Transparency, but you'll need to have at least two of these options selected.
Control your earbuds with a tap and a swipe
For a set of the best wireless earbuds, the Pixel Buds Pro have a lot more functionality and features than you might have expected. We've covered some of our favorite Pixel Buds Pro tips and tricks, which take you beyond just making sure that the ANC is turned on. 
After customizing the touch controls, you'll be able to switch between the three different audio modes with just a tap. Plus, you can ask Google Assistant to turn on the lights, without activating every smart speaker in your home.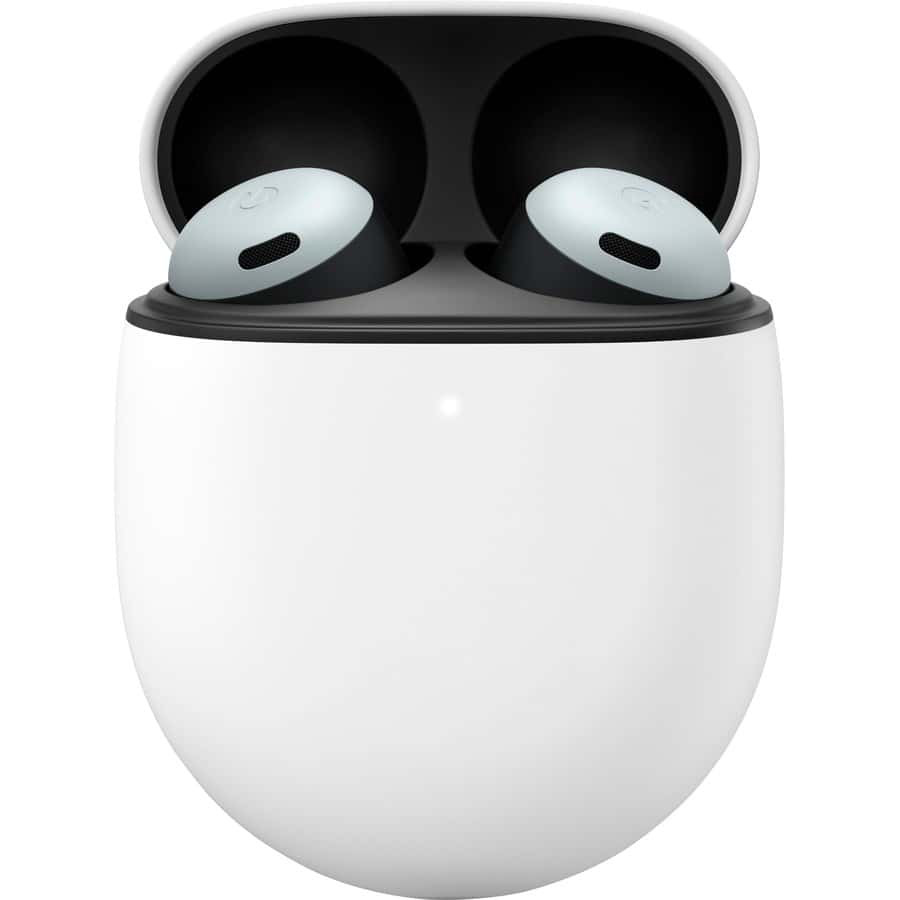 Gestures, or no gestures
Regardless of whether you enjoy using gestures or not, the Pixel Buds Pro offers the flexibility to turn these on or off.